This morning I tried a recipe I found in my Health Magazine for Pumpkin Pancakes. They were a piece of CAKE to make :) and SUPER yummy and satisfying. Highly recommend!
Here is the recipe: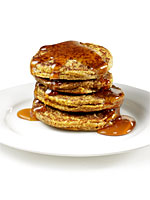 In a medium bowl, lightly whisk together
1 cup whole-wheat pancake mix
,
1 cup cold water
,
1/3 cup canned pumpkin, 1/2 teaspoon ground cinnamon
, and
1/4 teaspoon ground ginger
. Mix until batter is combined but still lumpy. Spray a griddle with
nonstick spray
, and heat on medium. For each pancake, spoon 1/4 cup batter onto the griddle, and cook for about 2 minutes or until bubbles appear. Then flip, cook for another 2 minutes, and transfer to a plate. Drizzle each with
2 teaspoons warm maple syrup
and...dig in! Makes 8 pancakes.
Source

: Health Magazine. "Spiced Pumpkin Pancakes." Dec 2011; p 59.